To the Professional Photographers taking family portraits in the gardens there is a fee of $35.00. Please call ahead and let us know.
Thank you.
Summers Past Farms
15602 Olde Hwy 80
Flinn Springs, CA 92021
(619) 390-1523
Closed Monday & Tuesday
Wednesday - Saturday:
9:00am - 5:00pm
Sunday:
10:00am - 5:00pm
~New This Month~
Get Our E-Mail Newsletter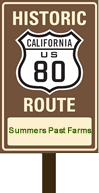 Use your browser's refresh/reload button to be sure you are viewing our most recent content.
February 2016
Marshall & Sheryl wishing you a Happy New Year
and may 2016 give you many fun adventures
and a beautiful garden.
Chamomile relaxing in the soap shop.
Come visit the cozy nest!
New collection of garden planters.





Fairy Homes & Gardens book is now here! There are many pictures inside of my own fairy gardens at Summers Past Farms. Book also available in the store now. We are so happy to be in this beautiful inspiring fairy book.


The nursery is fully stocked with Sage & Habitat plants for songbirds, hummingbirds & butterflies.
The nursery is filled with colorful geraniums, our best collection ever! This is the most beautiful time of the year the gardens are blooming.
The nursery is filled with herbs, vegetables and colorful flowers for your garden.
Meet our newest cat!
Her name is Chamomile.


Avid photographer and blogger, Geri Wilson, wrote a nice article about our farm. As you can see by the small sample of her photographs below, she has an amazing eye for capturing the beauty of Summers Past. Please visit her blog, Geri's Room, to read her article and see a slideshow of her recent visit to the farm.
I have a new kitten! Meet Sunny. Just adopted him from Friends of Cats. He's already working in my office!
Creating a fairy garden
You donít have to be a wee one to enjoy these miniatures
By Valerie Lemke, Special to the San Diego Union-Tribune (see U-T website)
From mud pies to miniature mountains, children have always played in the garden. Sheryl and Marshall Lozier, proprietors of Summers Past Farms in Flinn Springs, believe with the advent of fairy gardens, this pastime isn't strictly child's play.
"Fairy gardens are for everybody," Sheryl said of the trend of creating Lilliputian landscapes meant to be inhabited by wee winged folk. Much like dollhouses of yesteryear, they are also meant to be played with — by children, as well as adults.
"You can make your garden any size and in just about anything — a wheelbarrow, fire pit, chair, drawer, even an Altoid box," she said.
Imaginative, inexpensive accessories run the gamut from shells, rocks and make-it-yourself fences to signage, water interests and bedding plants. "Kids have collections and they'll want to put in their treasures, too," Sheryl said. In addition, miniature garden furniture, houses, and the fairies themselves are available online and at nurseries and craft stores.
Sheryl tacks a decorative twig onto a 3-by-3-foot box that Marshall made from cedar planks and tree branches from the nursery grounds. It includes a screen stapled to the bottom for drainage.
Filled with potting soil and some furniture, Sheryl tucks colorful bedding plants into place.
Place box in desired spot (your fairy garden should be slightly hidden, an enchanting surprise for those who come upon it). Fill box with potting soil ($6 to $10 for 2 cubic feet) and wedge slabs of bark into soil to create varying levels. Begin adding amenities: pebbled paths, homemade stair rounds, twig fences, fairy cottages and small bedding plants (about $2.95 for a six-pack). "This is not just for children," said Sheryl. "You can see I'm having fun."
You can make a birdbath by gluing together a tiny terra-cotta pot and saucer with water-resistant glue (about $6 for a trio of pots at a nursery or craft shop). Paint it your favorite color with acrylic paint.
With imagination, a fairy garden can be created almost completely with collected or homemade items such as shells, pebbles, acorns, ceramic knickknacks, wire gazebos, ponds, signage and twig fences. You can also augment with miniature furnishings found online at nurseries or craft shops. From $3 to $45, you'll find tables, pails, watering cans, garden tools, farm animals, lanterns, cottages and, of course, fairies.
This photo homes in on some details in a complete garden. The project can be as elaborate or as simple as you like as long as it is replete with at least one winged sprite. It takes about an afternoon to complete.
"The Garden Silently Invites Us
Into Her Healing Embrace
Where Our Spirit Comes To The Fore
Free, Empowered, Whole."
- Erhard Vogel
Summer & Woody are enjoying the sweet pea maze.
Words just canít describe how beautiful life is!


Chicks at Summers Past


Sherylís new puppy Summer
Escape
Take an afternoon to enjoy the shade of our pavilion or picnic in the shade of our trees while enjoying our House Blend Mango Iced Tea, a smoothie or iced coffee drink!

photograph by Nick Broomis
Summers Past Farms is a small family business nestled in the foothills just 30 minutes east of downtown San Diego on historic Old Highway 80. Because the climate is one of the mildest in the United States, Sheryl & Marshall Lozier are busy planting, harvesting and crafting all year long.
Our retail shop is housed in a 3,500 square foot post-and-timber barn we built ourselves. The barn is always a fun place to shop and see what's new for the season! Come see all the new fairy items, gardening and cookbooks, country furniture, garden statues, and home dťcor items. In our plant and herb nursery, you'll delight in a selection of culinary herbs, ornamental landscape plants, water-wise plants, native plants, and well as many beautiful flowers for every season. You can see the plants in our decorative or herb gardens.
We also invite you to visit our herbal soap shop where we have been making the finest all natural vegetable based soaps, hand salves and lavender sprays since 1992. Start making your own today! Soap Making kits and supplies are available along with a full line of essential and fragrance oils. Fine skin care products from around the world fill the tables in the spa-like getaway including dead sea products and French-milled soaps.
Enjoy your visit even more while sipping on your favorite coffee drink, smoothie or mango iced tea (our specialty). Stroll through the garden or enjoy a bench under our shady pavilion.
Come and see out beautiful flower gardens or join us at one of our many workshops or gardening classes. Our workshops are offered on the weekends, seasonally in our loft. Learn more about creating herbal vinegar, wreaths, herbal soap, hand salves, lip balms and gardening.
Many events are held annually including Sweet Pea Day Celebration, An Antique and Craft Fair (twice a year), wine tasting, a Fairy Festival, Lavender Day Celebration, Pumpkin Patch, and a Holiday Open House.