To the Professional Photographers taking family portraits in the gardens there is a fee of $35.00. Please call ahead and let us know.
Thank you.
Summers Past Farms
15602 Olde Hwy 80
Flinn Springs, CA 92021
(619) 390-1523
September - December
Wednesday – Saturday
9:00 - 5:00
Sunday 10:00 - 5:00
Closed Monday & Tuesday
~
New This Month

~
Get Our E-Mail Newsletter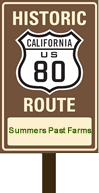 Use your browser's refresh/reload button to be sure you are viewing our most recent content.
December 2017
Click here for registration information.
Open Wednesday - Saturday: 9:00am - 5:00pm
Open Sunday: 10:00am - 5:00pm
Closed Monday & Tuesday


An Extraordinary
Antique & Craft Fair
December 2, Saturday
9:00 am - 3:00 pm
Over 70+ fine craftsman and expert artisans can be found at this wonderful event. Jewelry, paintings, collectables, antiques, and more all on our spacious lawn area. Enjoy your day shopping for Christmas at this great outdoor event.
Fresh Pines and Rosemary Centerpiece
December 9, Saturday

SOLD OUT


11:00 am - 1:00 pm
Enjoy combining fragrant princess pine, noble fir, cedar and rosemary to fill your home with the scents of the season. This centerpiece is a long lasting fresh delight decorated with pine cones and cinnamon sticks. Be your own florist and come immerse yourself in Christmas spirit.
Registration required. Fee $40.00 -- Sheryl Lozier