To the Professional Photographers taking family portraits in the gardens there is a fee of $35.00. Please call ahead and let us know.
Thank you.
Summers Past Farms
15602 Olde Hwy 80
Flinn Springs, CA 92021
(619) 390-1523
Closed Monday & Tuesday
Wednesday - Saturday:
9:00am - 5:00pm
Sunday:
10:00am - 5:00pm
Get Our E-Mail Newsletter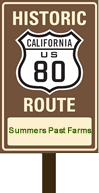 Use your browser's refresh/reload button to be sure you are viewing our most recent content.
Links Outside SPF
Please visit these friends of Summers Past Farms.
Alpine Community Network -- great resource for events & business directory
Alexandria LaNier -- fairy tale artist, author, costume designer & photographer.
Near Here: Local Date Ideas & Events provides a large selection of unique date ideas along with all the information you need to do those dates, including costs, driving directions, photos, user reviews, hours, restrictions, and more.