To the Professional Photographers taking family portraits in the gardens there is a fee of $35.00. Please call ahead and let us know.
Thank you.
Summers Past Farms
15602 Olde Hwy 80
Flinn Springs, CA 92021
(619) 390-1523
Open
Thursday – Saturday
9:00 - 5:00
Sunday 10:00 - 5:00

Closed
Monday- Wednesday
All year
~
New This Month

~
Get Our E-Mail Newsletter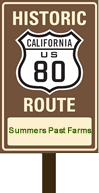 Use your browser's refresh/reload button to be sure you are viewing our most recent content.
Online Shopping
Return Policy: All items must be returned within 28 days in original packaging with receipt. There will be a 10% re-stocking fee for all items returned.
Shipping Policy: Shipping prices may change for overweight and oversized packages. No shipping to Hawaii, Alaska and International. UPS will not ship to P.O. Box addresses.
Purchase our fine products through our secure shopping cart. Choose from the following categories of products: