To the Professional Photographers taking family portraits in the gardens there is a fee of $35.00. Please call ahead and let us know.
Thank you.
Summers Past Farms
15602 Olde Hwy 80
Flinn Springs, CA 92021
(619) 390-1523
Open
Thursday – Saturday
9:00 - 5:00
Sunday 10:00 - 5:00

Closed
Monday- Wednesday
All year
~
New This Month

~
Get Our E-Mail Newsletter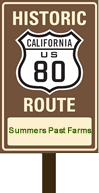 Use your browser's refresh/reload button to be sure you are viewing our most recent content.
Pumpkin Patch
Pumpkin Patch Month of October
A favorite time for Summers Past Farms. Wonder in the pumpkin patch during the week and pick your favorite pumpkin! Featuring our selection of field grown pumpkins of all shapes and sizes. Fill your wheelbarrow with your favorite pumpkins. Fun filled days for everyone. Bring your cameras, family and friends. Snap a picture of the kids having fun in the "jumpy" on the grassy area. Something for all to enjoy!
Open
Wednesday

-

Sunday

each week of October.