To the Professional Photographers taking family portraits in the gardens there is a fee of $35.00. Please call ahead and let us know.
Thank you.
Summers Past Farms
15602 Olde Hwy 80
Flinn Springs, CA 92021
(619) 390-1523
Closed Monday & Tuesday
Wednesday - Saturday:
9:00am - 5:00pm
Sunday:
10:00am - 5:00pm
Get Our E-Mail Newsletter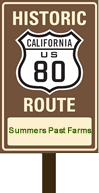 Use your browser's refresh/reload button to be sure you are viewing our most recent content.
Soy Candles
Our all natural soy candles were handmade exclusively for Summers Past Farms. These triple-scented candles have a natural wood wick that does not require trimming. A wood wick will not soot or fall into the wax.
To light, burn the wick at the base where it touches the wax. For best results burn candles for at least 2 hours.




SOLD OUT

California Sunshine 9oz. jar $13.95
Pure essential oils of sweet orange & clove bud.




SOLD OUT

Sweet Pea 9oz. jar $13.95
Sweet aroma of the beautiful & old-fashioned Sweet Pea. Just in time for the Spring season!

SOLD OUT

Lavender 9oz. jar $13.95
Lavender is the most versatile and popular essential oil relaxing and calming.




SOLD OUT

Lemon Verbena 9oz. jar $13.95
Fresh, clean and lemony. This candle is reminiscent of a French-country garden.




SOLD OUT

Sea Sage 9oz. jar $13.95
A blend of ocean and garden, refreshing with a feeling of well being. This candle gives you the feeling of being in your own spa every time you light it.