To the Professional Photographers taking family portraits in the gardens there is a fee of $35.00. Please call ahead and let us know.
Thank you.
Summers Past Farms
15602 Olde Hwy 80
Flinn Springs, CA 92021
(619) 390-1523
Open
Thursday – Saturday
9:00 - 5:00
Sunday 10:00 - 5:00

Closed
Monday- Wednesday
All year
~
New This Month

~
Get Our E-Mail Newsletter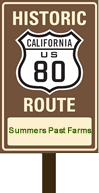 Use your browser's refresh/reload button to be sure you are viewing our most recent content.
Click on each month to see schedule and description of classes.
Class Registration Information:
Classes are located in the airy, bright loft. (No handicap access.) You will be surrounded by colorful everlasting flowers that are available for you to choose from. Be sure to register early to ensure that the class you want is not canceled as a result of low enrollment! All materials and taxes are included in the cost of the class.

REGISTER EARLY
Online: Just add the class to your shopping cart.

By Phone: (619)390-1523. Phone-in registration will be accepted using Mastercard, Visa, Discover or American Express. Registrations are paid in full. Please call during business hours.

In Person: Visit us during business hours and pay by check, cash, or credit card. Remember we are closed on Monday and Tuesday.

By Mail: Send a check in the full amount of class fees (all taxes are already included) or credit card number and expiration date or money order, payable to: Summers Past Farms, 15602 Olde Hwy 80, El Cajon, CA 92021.

Cancellation Policy: If you must cancel, notify Summers Past Farms by phone (619)390-1523 three days prior to class, and we will issue you a full refund. A full refund will be issued for any class canceled by Summers Past Farms.