To the Professional Photographers taking family portraits in the gardens there is a fee of $35.00. Please call ahead and let us know.
Thank you.
Summers Past Farms
15602 Olde Hwy 80
Flinn Springs, CA 92021
(619) 390-1523
Open
Thursday – Saturday
9:00 - 5:00
Sunday 10:00 - 5:00

Closed
Monday- Wednesday
All year
~
New This Month

~
Get Our E-Mail Newsletter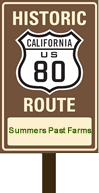 Use your browser's refresh/reload button to be sure you are viewing our most recent content.
The Barn Shoppe
Our country store is a rustic post and timber barn we built in 1990. The Barn is a fun place to shop and see what is new weekly and in all seasons. We host a collection of fairy's for your garden and fairy items such as fairy houses, chairs, benches, signs and farm animals for you to be creative with. We have a garden collection of wind chimes, garden signs, seeds, books and solar garden art which is most popular now. The collection of home décor is varied from each season come and see what is new this week. Perfect place to get that special gift you for that special friend.
Here are some FUN recipes to inspire you!
These recipes are from some of our favorite books you can find right here at Summers Past Farms! Come in and check out all of our fantastic raw food recipe book collection.
Almond Cookies
from: Raw Food Made Easy: for 1 or 2 People
by Jennifer Cornbleet
Download a printable PDF version.
Why these are so good for you: Nuts and Almonds are high in Fiber, Protein, Good Fats, Vitamin E, Magnesium, Zinc and other Trace Minerals vital for health, lowering cholesterol, regulating appetite, strengthening the immune system, increasing bone strength, muscle and nerve function, as well as being important for your skin, hair, red blood cells and helping to fight against disease. So enjoy these guilt free!
Zucchini Hummus
Its time to start planting your zucchini now! Ever wonder what to do with all of your summer zucchini? Try a simply delicious recipe Sheryl recommends from one of her favorite books The Raw Food Revolution Diet by C. Soria, B. Davis, & V. Melina.
Download a printable PDF version.
This amazing, bean-free hummus has all the flavor of a traditional Middle Eastern hummus and is full of nutrients, including bone-strengthening calcium. Enjoy it served with Crudites or in romaine lettuce boats with tomatoes and sprouts.
Other Favorite Recipies


Tomato Soup with Fresh Herbs
serves 6

1/4 cup Butter
1 small Onion, chopped
1 Carrot, chopped
1 cup chopped Celery, stalks & leaves
1 bay leaf
1 tablespoon chopped fresh Basil
2 sprigs each fresh Oregano, Marjoram, Thyme
3 cups peeled, seeded and chopped Tomatoes
4 cups Chicken Stock salt freshly ground black pepper

In a 2-quart saucepan, heat the butter and sauté the onion, carrot and celery for 5 minutes. Stir in the fresh herbs, tomatoes and stock. Cover and simmer for 30 minutes, stir occasionally. Use a stick blender to slightly puree and leave small chucks. Season with salt and pepper, and garnish with fresh herbs.

Don't stop there! This is an excellent soup base to use with fish, vegetables and rice to your liking!
Download Sheryl's recipe in PDF.
See the Union Tribune article on "Grow-it-yourself flavors" where Sheryl explains how to grow herbs in cooler months.
Sheryl's recipe for Garden Fresh Tomato Pasta was featured in the "Homescape" section of the San Diego Union Tribune on July 19th, 2009. This recipe was adapted from Favorite Recipes with Herbs.
View or Download the article in PDF.
View or Download Sheryl's recipe in PDF.