To the Professional Photographers taking family portraits in the gardens there is a fee of $35.00. Please call ahead and let us know.
Thank you.
Summers Past Farms
15602 Olde Hwy 80
Flinn Springs, CA 92021
(619) 390-1523
SUMMER HOURS
July 5 – August 30


9 weeks only


Closed three days of the week Monday Tuesday Wednesday
Open

Thursday

–

Saturday




9:00-5:00


Sunday

10:00-5:00
September - December
Wednesday – Saturday
9:00 - 5:00
Sunday 10:00 - 5:00
Closed Monday & Tuesday
~
New This Month

~
Get Our E-Mail Newsletter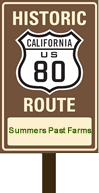 Use your browser's refresh/reload button to be sure you are viewing our most recent content.
Our Special Events
During the year the farm hosts several special events. Don't miss out on the always popular Sweet Pea Day, and the Antique & Craft Fair twice yearly. Pumpkin patch the month of October fun for the whole family. These days will feature food, music and fun! Make plans to visit us on these festive special event days. (scroll down to see all the special event dates ~ more info to come)
SUMMER Days & Hours
July & August
Open Thursday - Saturday: 9:00am - 5:00pm
Open Sunday: 10:00am - 5:00pm
Closed Monday & Tuesday & Wednesday
2017 Events
Pet Adoption from Ferdinand's Familia & Rescue
Saturday, July 22nd from 9am—12Noon
Come to this Saturday morning adoption event at Summers Past Farms. Starts at 9:00 come out and help the rescue find homes for everyone.
Animals for Adoption:
6-8 kittens
4 chicks
1-2 chickens
2 roosters
2 ducklings
1 40lbish Sulcata tortoise
2 dogs: 13 year old Shepherd mix; 12 year old Poodle
2 senior goats
2 rabbits (bonded pair)
The chicks came from a wild chicken in the TJRV. The ducklings came to us from the Department of Animal Services, found abandoned...

Wilbur, the 13 year oldish shepherd mix was found wandering at the Border covered in ticks and underweight when he was picked up by the Border Patrol who took him to the shelter. No one could bare to euthanize him, so DAS called us to take him! An old guy, he would be great on a farm or ranch, gets along with everyone and wants to walk, walk, walk...

The 2 old goats are with a foster family right now and are just looking to find a place to live out their remaining years.

It is kitten season and the kittens come from DAS and the TJRV....

Leonardo of Tokyo (Tortoise shown above) is originally from the North County San Diego Humane Society. Found as a stray, this guy needs a secure yard.

Mojito & Naranja (rabbits) came from a seizure in Orange County. Almost 100 rabbits were confiscated by animal control officers in Orange County. Through another rescue, FF&R stepped up and took these 2 in to the rescue.

All adoptions will require a home visit. Cats and Dogs (except Wilbur) and Rabbits will be neutered/spayed. Adoption fees vary, but we will have adopt one kitten at $75 and the 2nd fee for a buddy will be $25.


Pumpkin Patch Month of October
A favorite time for Summers Past Farms. Wonder in the pumpkin patch during the week and pick your favorite pumpkin during business hours.
Pumpkin Patch week-ends:

The jumpy will be here on the grass area and popcorn and corndogs at the coffee bar along with our coffee drinks and smoothies. Come out and enjoy the country.
Holiday Open House
Thursday, November 9th 5:00 - 8:00 pm
You are invited to start your holiday season at Summers Past Farms. Be inspired by our selection of fall and Christmas gifts and home decor. The Barn will be filled with lights and the trimmings of the season. The store is a special place to be in the evening with all the holiday sparkle and the scents of the season. The Soap Shoppe will have special holiday soaps and gifts ready for the giving. Come with all your friends.
Making this an old fashion open house please bring a plate of your favorite homemade cookies for the cookie table. We will have Christmas music & hot wassail for you to enjoy at this most enjoyable event under the Christmas lights.
Live music with Jim Earp!
Antique & Craft Fair
Saturday, December 2nd
9:00am - 3:00pm
An extraordinary Craft Fair! Over 70+ fine craftsman and expert artisans can be found at our Fall Craft Fair. Crafts, collectables, antiques & a garden sale all on our spacious lawn area. Enjoy your day shopping for the holidays at this great outdoor event!