To the Professional Photographers taking family portraits in the gardens there is a fee of $35.00. Please call ahead and let us know.
Thank you.
Summers Past Farms
15602 Olde Hwy 80
Flinn Springs, CA 92021
(619) 390-1523
September - December
Wednesday – Saturday
9:00 - 5:00
Sunday 10:00 - 5:00
Closed Monday & Tuesday
~
New This Month

~
Get Our E-Mail Newsletter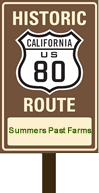 Use your browser's refresh/reload button to be sure you are viewing our most recent content.
Green Bean
Coffee Bar
A great area for those who like to relax with a coffe drink or other refreshment, come see the Green Bean Coffee Bar with its shade structure and impressive panoramic view of our gardens and El Capitain mountain. Come enjoy and watch the garden grow!
Wednesday - Saturday:
9:00am - 5:00pm
Sunday: 10:00am - 5:00pm
pastries available on the weekends