To the Professional Photographers taking family portraits in the gardens there is a fee of $35.00. Please call ahead and let us know.
Thank you.
Summers Past Farms
15602 Olde Hwy 80
Flinn Springs, CA 92021
(619) 390-1523
Closed Monday & Tuesday
Wednesday - Saturday:
9:00am - 5:00pm
Sunday:
10:00am - 5:00pm
Get Our E-Mail Newsletter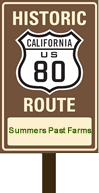 Use your browser's refresh/reload button to be sure you are viewing our most recent content.
Fairies
A nice article from The Alpine Sun paper on the Fairy Festival.
Magic, and Spring flutter by at the Summer's Past Fairy Festival. This year, the little fay folk attended in droves dressed in their best. Their wings extended out in colors to compliment their dress, while the more mature fairies looked on in the beautiful setting of the perfectly groomed gardens. Summer's Past has been bringing the fairies as well as celebrating the artistic design of the imagination.
This year more fairy gardens were presented. These intricate little gardens are a display of meticulous miniaturization. Each garden depicts the aspects of what a fairy would like in his or her garden, but on a tiny scale. These whimsicalworks of art are on display at Summer's Past.
The fairy fashion was in full swing this year with everyone in a feathery, floaty, sparkly, and fun fashion that rivaled only the floral desplays of the gardens themselves. Also in attendance this year was the Disney princesses, who came to enjoy their friends at this magical place. Cinderella, Snow White, Ariel, Rapunzel and Belle strolled through the field greeting everyone, and making new friends.
Vendors offered crafts and garden themed products while music was provided in a soft and lilting stream. If you have never visited Summer's Past farms, you should give it a try one weekend. Located on Old Highway 80, this quaint little nursery is filled withbeauty, along with a shop in the barn that offers elegant treasures to enhance any garden setting. They have décor items, soaps, and attire that stirs the summery feelings of a dream.
"fairies gather where flowers grow"
In celebration of Fairies, Summer Past Farms hosts a Fairy Festival each year! Upon the ringing of the bell on June 1, 2013 will be the next event. All through the year we create small gardens for Fairies to live in. A small corner of your garden is an ideal place to attract Fairies.
Fairies like to live in items such as tiny pots, medium or large size pots, or old wheel barrows and wooden boxes. Our collections offered here should get your imagination going. Children like to dress as fairies year round anytime and our accesories can keep them happy and cheerful. Our selection of fairy books will entice their imaginations. At the Fairy Festival we host a Fairy Fashion parade and a wee garden competition. Don't forget your fairy dust!