To the Professional Photographers taking family portraits in the gardens there is a fee of $35.00. Please call ahead and let us know.
Thank you.
Summers Past Farms
15602 Olde Hwy 80
Flinn Springs, CA 92021
(619) 390-1523
Closed July 28th—August 5th
Closed Monday & Tuesday
Wednesday - Saturday:
9:00am - 5:00pm
Sunday:
10:00am - 5:00pm
~New This Month~
Get Our E-Mail Newsletter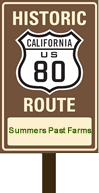 Use your browser's refresh/reload button to be sure you are viewing our most recent content.
Fairy Gardens & Garden Miniatures
Fairy Garden Kits
Each of our Fairy Garden Kits comes Gift Wrapped with a special collection of shinny stones to make your Garden sparkle!
The fairy garden kits are designed with our favorite items that are suitable for outdoors. Our most inviting garden to lure fairies is our old wheelbarrow, we drilled small holes for good drainage. I keep the garden in part shade here in sunny southern California. (see a complete garden below)
Fairy Garden Starter Kit $26.00
Suitable for small spaces or containers.
Includes:
1- Fairy Garden Path (1 lb.)
1- Metal Wire Chair 2.5" H x 2.5" W
1 - Metal Gardening Tools set/assorted 3"L
1- Metal Watering Can 2"H
1 - Purple Terracotta Birdbath 2.5"H x 3"D
Fairy Garden Standard Kit $45.00
Suitable for a larger spaces or containers.
Includes:
1 - Vine Arbor with Leaves 8.5"H (without picks) x 3.5"W
1 - Fairy Garden Path (1 lb.)
1 - Metal Wire Chair 2.5"H x 2.5"W
1 - Metal Gardening Tools set/assorted 3"L
1 - Watering Can Pick 8"H
1 - Purple Terracotta Birdbath 2.5"H x 3"D
Fairy Garden Deluxe Kit $64.00
Our most popular kit includes:
1 - Rustic Wire Arbor
7" H (with out picks)x 5" W
1 - Rustic Metal Fence
3"H (without picks) x 60"L
1 - Metal Wire Bench 2.5" H x 3.5" W
1 - Metal Wire Chair 2.5" H x 2.5" W
1 - Metal Rustic Wheelbarrow
1.5"H x 2"W x 5"L
1 - Metal Watering Can 2"H
Tiny Garden Tools set/assorted 3''h.
1 - Purple Terracotta Birdbath 2.5"H x 3"D
1 - Fairy Garden Path (1 lb.)