To the Professional Photographers taking family portraits in the gardens there is a fee of $35.00. Please call ahead and let us know.
Thank you.
Summers Past Farms
15602 Olde Hwy 80
Flinn Springs, CA 92021
(619) 390-1523
Open
Thursday – Saturday
9:00 - 5:00
Sunday 10:00 - 5:00

Closed
Monday- Wednesday
All year
~
New This Month

~
Get Our E-Mail Newsletter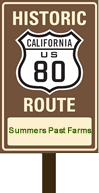 Use your browser's refresh/reload button to be sure you are viewing our most recent content.
Visit Our Nursery
Geraniums • Culinary Herbs •
Ornamental Herbs •
Succulents • Grasses • Annuals and Perennials • Water Wise Plants


The nursery is fully stocked with Sage & Habitat plants for songbirds, hummingbirds & butterflies.
Fall Garden Time: This is the most productive time of year to garden, and one of the most lovely. Gardeners who put in extra time this season will be richly rewarded with fabulous spring gardens and less work to do later. Not only is it the best time to put in perennials (plants living more than 2 years) but it is the time to sow many favorite spring blooming plants from seed. For flowers sow; sweet peas, wildflowers, larkspur, or columbine, herbs; chamomile, dill, cilantro, parsley, vegetables; lettuce, peas, beets, broccoli, cabbage, carrots or kale. Fall planting gives soil warmth for germination and new
root growth. In addition, the rainy season that follows establishes the plants firmly. Your Autumn work will be rewarded in Spring and early Summer with great growth and luxuriant bloom.
Summer Tips:
Save on water and reduce the stress on your plants with organic compost.
Are little green worms and caterpillars eating your basil and other soft leafed plants? Use Caterpillar Attack.
Basil is a summer crop!
The first question on a warm March day is: Why don't you have any basil? So begins the explanation on growing basil. Basil germinates and grows easily when planted in rich soil with warm air temperatures and adequate moisture. Don't try to sow seed or transplant basil seedlings too early as they just won't cooperate. Wait until both air and soil are well warmed up and both day and night temperatures are about 60 degrees. April is here and the question still is: Why don't you have any basil? Why did my basil die? Or another question: Why isn't my basil growing? Our answer will be: April isn't warm enough for basil. Often the temperature is dropping below freezing at night and basil will not tolerate a frost. Generally, it is better not to plant basil before mid-May. Basil likes sun, and has very high water requirements, especially during the summer. Feed plants with fish emulsion after heavy harvesting. Keep mature basil well watered and conscientiously pinch off flower buds as they appear, to prolong the production season.
Create a Hummingbird/Butterfly Garden
Plan a colorful paradise for butterflies and hummingbirds in your garden by planting and maintaining the kinds of flowers, shrubs, trees, and other plants that these fluttering beauties will find irresistible. To get started plant: Monarda, salvia, lantana, mints, zinnia, aster, heliotrope, hollyhocks, parsley and more.