To the Professional Photographers taking family portraits in the gardens there is a fee of $35.00. Please call ahead and let us know.
Thank you.
Summers Past Farms
15602 Olde Hwy 80
Flinn Springs, CA 92021
(619) 390-1523
Open
Thursday – Saturday
9:00 - 5:00
Sunday 10:00 - 5:00

Closed
Monday- Wednesday
All year
~
New This Month

~
Get Our E-Mail Newsletter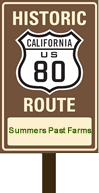 Use your browser's refresh/reload button to be sure you are viewing our most recent content.
Soap Making at Summers Past Farms
We sell soapmaking kits and supplies! Choose our herbal soapmaking kit or our replacement kit and don't forget to order a pair of soap cutters. All online orders processed through a secure shopping cart. For other products click on the following links: Soapmaking Supplies • Essential Oils • Fragrance Oils
Herbal Soap making Kit
Everything you need to make 8 lbs. of soap. The kit includes complete soap making instructions with a lot of updated and added information. Included with the kit is a custom wood soap mold, pre-measured all vegetable oil base of coconut, palm and olive oil, pre-measured sodium hydroxide, gloves, one full ounce of essential or fragrance oil and a 1/2 oz. bag of dried botanicals.

Premeasured Replacement Soap Making Kit (includes lye)
The replacement kit, which includes pre-measured vegetable oils of (coconut, palm, olive) and pre-measured lye and gloves. 5 lbs.