To the Professional Photographers taking family portraits in the gardens there is a fee of $35.00. Please call ahead and let us know.
Thank you.
Summers Past Farms
15602 Olde Hwy 80
Flinn Springs, CA 92021
(619) 390-1523
Open
Thursday – Saturday
9:00 - 5:00
Sunday 10:00 - 5:00

Closed
Monday- Wednesday
All year
~
New This Month

~
Get Our E-Mail Newsletter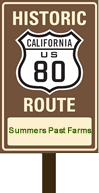 Use your browser's refresh/reload button to be sure you are viewing our most recent content.
Sweet Pea Maze
Spring is in! Our Sweet Pea Maze is in bloom every Spring, come out to the Farm and walk through our towering fragrant maze. Enjoy our special day dedicated to these old-fashioned, dainty flowers!